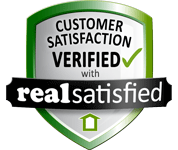 Exciting news for RealSatisfied customers!  Announcing the release of Agent Profile Pages. Every RealSatisfied Team Member account now has a personalized profile page where they can publish and promote their profile,  testimonials and ratings.
If you are a Real Satisfied customer your Agent Profile Page is enabled right now and displays your ratings & testimonials along with your profile information in a clean & simple format. It's your page and you can decide what you would like to have appear. Simply sign in to your account and click the link to your page from your dashboard. We have created a vanity link for every account based on your name (e.g. www.realsatisfied.com/lisa-archer). Geeky Girls Laurie and Lisa are big fans of RealSatisfied read yesterdays post on InmanNext.
Along with the profile pages we have also released an rss feed for every account containing the data displayed on the page and based on the page settings. Using these agent feeds you can create you own agent pages or supplement you existing profile page on your own website.
And finally if you use WordPress for your website shortly we will  have a WordPress plugin that uses the rss feed data straight out out of the box in the form of a side bar widget! Your most recent testimonials delivered to your website as they are received – your ratings right up to date and where you want them.
Right away there's three different ways to make the most of your RealSatisfied data, and there will be more to come!
Our goal is to help you present your RealSatisfied data where you want it, how you want it, when you want it.
You reputation is important, how are you measuring yours?
Check out your Agent Profile Page today – not using RealSatisfied? That's easy – open a FREE 30 day account today.